3D Movies You Can Touch!®
Changing the world one movie at a time!™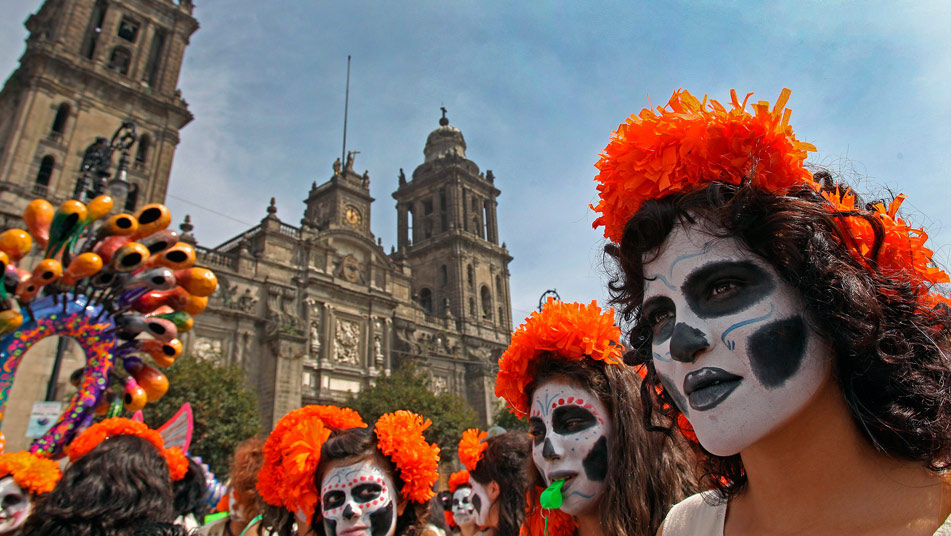 Mexico.
Above: Day of the dead celebrations.
Above: The Old Men's Dance. Michoacan, Mexico.
Above: Barranca del Cupatitzio National Park.bTropical Rain in Mexico. Uruapan. 3Dmovies.com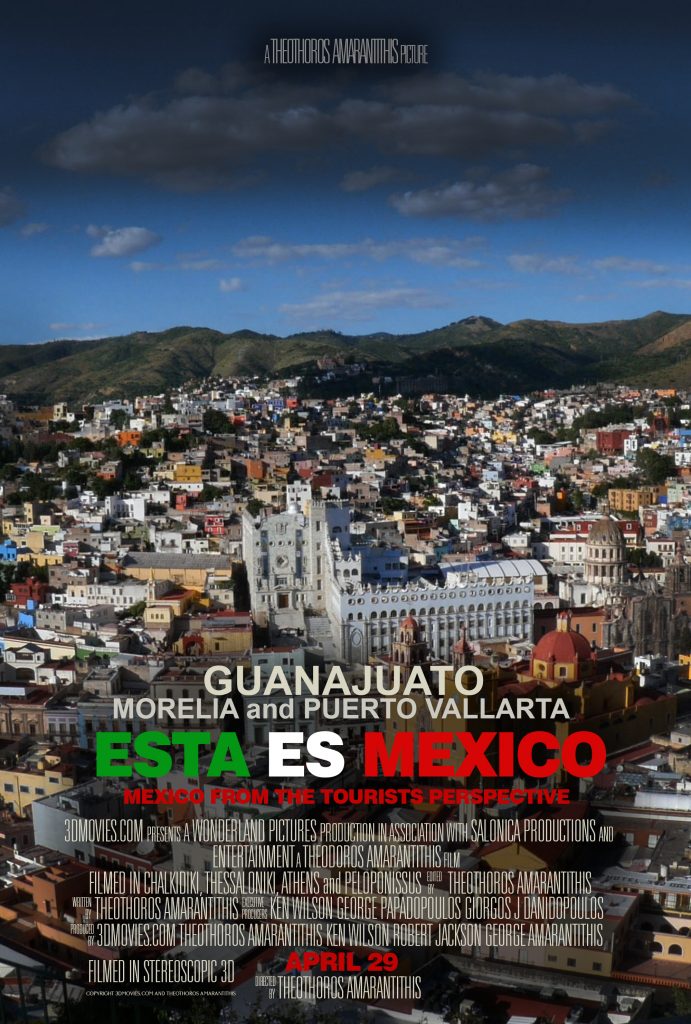 United Mexican States Estados Unidos Mexicanos (Spanish)
Anthem: "Himno Nacional Mexicano" (English: "Mexican National Anthem")
Location of Mexico Capital and largest city Mexico City 19°26′N 99°08′W Official languages None at federal level
Recognized regional languages Spanish 68 native languages
National language Spanish. Religion 83% Roman Catholicism 10% Other Christian 0.2% Other religion 5% No religion 3% No answer
Demonym Mexican Government Federal presidential constitutional republic
• President Enrique Peña Nieto
• President of the Senate Ernesto Cordero Arroyo
• President of the Chamber of Deputies Edgar Romo García Legislature Congress
• Upper house Senate
• Lower house Chamber of Deputies Independence from Spain
• Declared September 16, 1810[4]
• Consummated September 27, 1821
• Recognized December 28, 1836
• First constitution October 4, 1824
• Second constitution February 5, 1857
• Current constitution February 5, 1917 Area
• Total 1,972,550 km2 (761,610 sq mi) (13th) • Water (%) 2.5 Population
• 2017 estimate 123,675,325[5] (11th)
• Density 61/km2 (158.0/sq mi) (142nd) GDP (PPP) 2018 estimate
• Total $2.498 trillion (11th)
• Per capita $20,028 (64th) GDP (nominal) 2018 estimate
• Total $1.250 trillion (16th)
• Per capita $10,021 (69th) Gini (2014) 48.2 high HDI (2015) Increase 0.762 high
· 77th Currency Peso (MXN) Time zone See Time in Mexico (UTC−8 to −5)
• Summer (DST) varies (UTC−7 to −5)
Drives on the right Calling code +52 ISO 3166 code MX Internet TLD .mx Article 4.° of the General Law of Linguistic Rights of the Indigenous Peoples.
Spanish is the de facto official language of the Mexican federal government. Mexico (Spanish: México [ˈmexiko] (About this sound listen); Nahuatl languages: Mēxihco), officially the United Mexican States (Spanish: Estados Unidos Mexicanos, About this sound listen is a federal republic in the southern portion of North America. It is bordered to the north by the United States; to the south and west by the Pacific Ocean; to the southeast by Guatemala, Belize, and the Caribbean Sea; and to the east by the Gulf of Mexico.
Covering almost two million square kilometers (over 760,000 sq mi), the nation is the fifth largest country in the Americas by total area and the 13th largest independent state in the world. With an estimated population of over 120 million, the country is the eleventh most populous and the most populous Spanish-speaking state in the world while being the second most populous nation in Latin America. Mexico is a federation comprising 31 states and a special federal entity that is also its capital and most populous city. Other metropolises include Guadalajara, Monterrey, Puebla, Toluca, and Tijuana. Pre-Columbian Mexico dates to about 8,000 BC, is identified as one of seven cradles of civilization and was home to many advanced Mesoamerican civilizations, such as the Olmec, Toltec, Teotihuacan, Zapotec, Maya, and Aztec before first contact with Europeans. In 1521, the Spanish Empire conquered and colonized the territory from its politically powerful base in Mexico-Tenochtitlan, which was administered as the viceroyalty of New Spain. Three centuries later, the territory became the current nation following recognition in 1821 after the colony's Mexican War of Independence. The tumultuous post-independence period was characterized by economic inequality and many politically intensive changes. The Mexican–American War (1846–1848) led to a territorial cession of the extensive northern territories to the United States. The Pastry War, the Franco-Mexican War, a civil war, two empires, and the Porfiriato occurred through the 19th century. The Porfiriato was ended by the Mexican Revolution of 1910, which culminated with the promulgation of the 1917 Constitution and the emergence of the country's current political system. Mexico has the fifteenth largest nominal GDP and the eleventh largest by purchasing power parity. The Mexican economy is strongly linked to those of its North American Free Trade Agreement (NAFTA) partners, especially the United States.
Mexico was the first Latin American member of the Organisation for Economic Co-operation and Development (OECD), joining in 1994. It is classified as an upper-middle income country by the World Bank and a newly industrialized country by several analysts.
By 2050, Mexico could become the world's fifth or seventh largest economy. The country is considered both a regional power and middle power, and is often identified as an emerging global power.
Due to its rich culture and history, Mexico ranks first in the Americas and seventh in the world by number of UNESCO World Heritage Sites.
Mexico is a mega diverse country, ranking fourth in the world by biodiversity. In 2016 it was the eighth most visited country in the world, with 35 million international arrivals.
Mexico is a member of the United Nations, the World Trade Organization, the G8+5, the G20, the Uniting for Consensus, and the Pacific Alliance.
3D movies you can touch!
A collection of 3D films, 3D movies and 3D pictures updated daily.
A collection of "3D Movies You Can Touch!" ®. All Rights Reserved. Copyright © The 3D Film Company and Ted Amaradidis. For rights please read bellow.
This material is protected by copyright and has been copied by and solely for the advertising purposes of 3dmovies.com Inc. under license. You may not sell, alter or further reproduce or distribute any part of this coursepack/material to any other person. Where provided to you in electronic format, you may only print from it for your own private study and research. Failure to comply with the terms of this warning may expose you to legal action for copyright infringement and/or disciplinary action by 3dmovies.com Inc. For rights to use any of our pictures, video clips or movies please use our contact form. Most pictures are 6k resolution and almost all of our movies are filmed in 6k resolution soon to be upgraded to 8k.
3D Movies You Can Touch!® Changing the world one movie at a time!™