Top five 3D movies – 3Dmovies.com, by Ted Amaradidis – 3d movies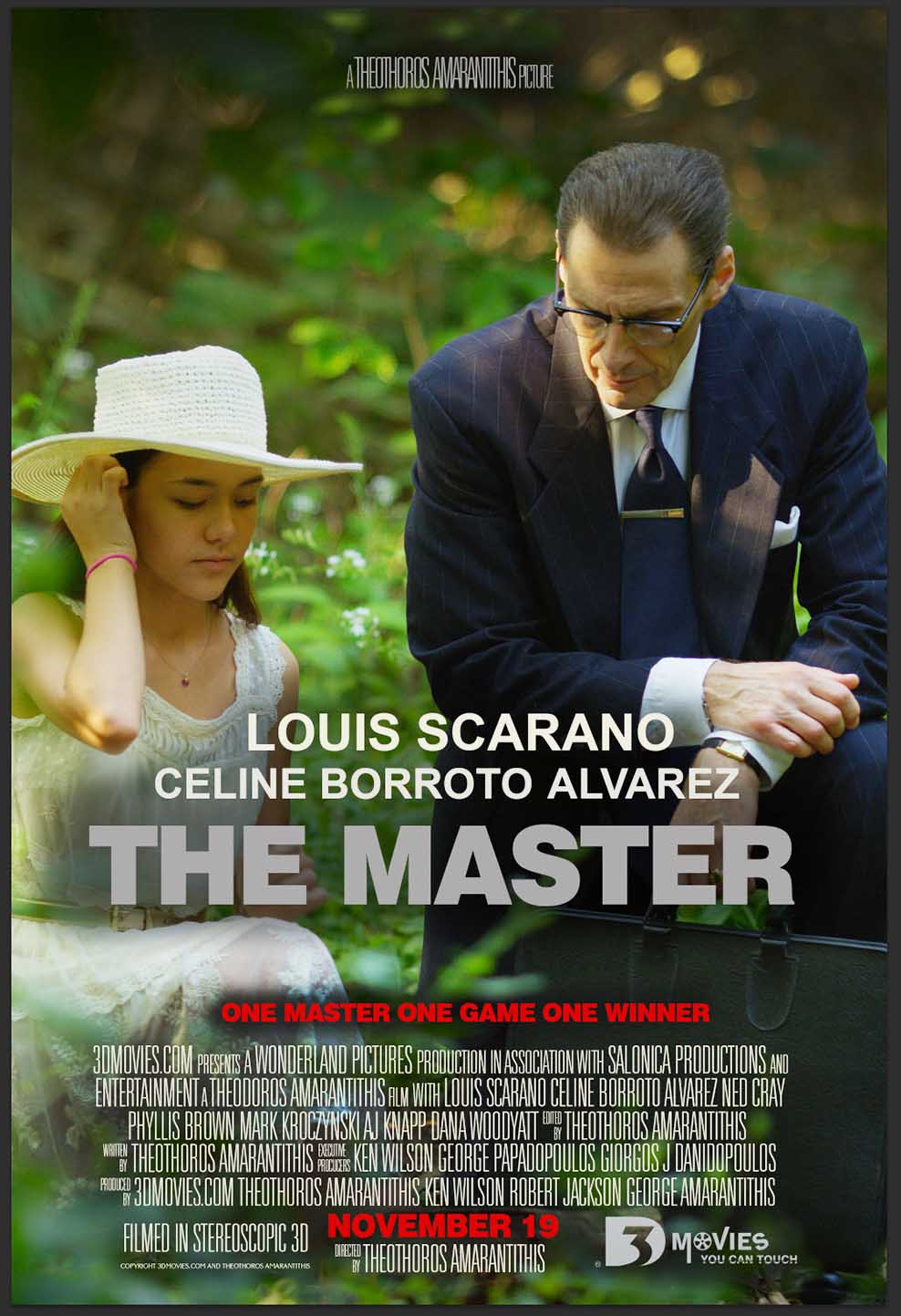 You have not seen Nothing yet. Stereoscopic 3D tv's, Wall size tv's no matter what size wall are coming soon WITHOUT THE NEED FOR GLASSES!!!!!
Combine that with 8k resolutions and … you get the picture!!!
The future of 3D movies looks very very bright!
1 – Avatar
Avatar is by far the best 3D movie ever made. I base my judgement on a variety of reasons. The 3D is mastered to perfection. I wish that many other focal lengths were used as I noticed from personal experimentation that the 3D effect is better in higher focal lengths. Maybe in Avatar 2 or 3 or 4?
Regardless of one's feelings about Avatar, James Cameron's epic all-time box office champ was one of the most impressive looking films in motion picture history. Cameron has always been an "okay" story-teller in my book, but there is no question that Avatar borrowed heavily from Dances with Wolves and Pocahontas. You know where Cameron is going with the story; but nobody on planet earth or the fictional Pandora could have imagined where the famed director of Titanic, Aliens, and the Abyss was going to take filmgoers with this visual masterpiece shot in 3D.
Avatar has rightfully earned a place in history with its breathtaking visuals, enveloping soundtrack, and overall creative vision. It's unlikely that any film on the horizon is going to touch its remarkable box office records; not even the six Star Wars films being redone in 3D. You can read Chris Chiarella's review of the Avatar Ultimate Collector's Edition, and for the most part we agree about the content of the film though I personally may not be all that enthralled by the story or message. Having watched Avatar more than a dozen times in the past few months has become somewhat tiresome, but I never cease to be amazed by all of the detail in each frame. As someone who doesn't recycle or lose that much sleep over the state of the planet (it's easy with so many of man's foibles to contend with), I wasn't overly impressed with the film's moral teachings. I also didn't buy into the "America is the bad guy" message that is so popular in Hollywood these days. But there's no denying that the film is a ground-breaking piece of work.
The Blu-ray 3D Disc
The Blu-ray 3D release of Avatar under review is now available. Well, sort of. If you've ever purchased a Panasonic 3D TV (even before December 1, when the Avatar Blu-ray 3D Disc first started shipping), you can get this disc for free via a mail-in rebate. This is a nice touch from Panasonic as it does not leave the early adopters out in the cold. For everyone else, the disc is available only in Panasonic's 3D Ultimate Pack, packed with two pairs of Panasonic's new medium-sized rechargeable 3D glasses. This 3D pack is available for direct purchase for under $300 or you can find it as part of a 3D TV bundle in many places (like Amazon), so you can get it discounted or free when purchasing a Panasonic 3D-enabled HDTV.
Of course, you non-Panasonic 3D TV owners will probably be ticked off that the release is not available for direct consumer purchase without the Panasonic doo-dads — and rightfully so. But the fact is, it was more lucrative for Fox to sell the exclusive rights to the title to Panasonic than it would have been to offer it for retail sale when the Blu-ray 3D market is so small. And if Panasonic hadn't ponied up the sheckels for the privilege, you could be sure that Samsung or LG (or another manufacturer) would have. For those who don't own a Panasonic TV, and don't want to buy the title on eBay (or buy the kit and sell the glasses on eBay), a general release Blu-ray 3D version of Avatar is expected to be available in 2012. Don't shoot the messenger!
The Blu-ray 3D Disc itself is pretty bare bones: it features the theatrical cut of the film and does not contain any of the additional material available in the Extended Collector's Edition. In fact, it looks pretty much identical (in menus and content) to the initial Blu-ray release of Avatar released last spring, but now with 3D menus, and the 3D movie of course. Consider this to be the same version you saw in the theaters.
Only a much smaller screen.
With far more expensive 3D glasses.
And even so… it rocks.
The Picture
I would characterize Avatar (the 3D version shown in theaters) as breathtaking from a visual perspective. James Cameron spent years preparing for this shoot and the results speak for themselves. More than once, I reached out from my seat trying to touch the fauna in Pandora's forests. Let's face it; Cameron opened a Pandora's Box (it was far too tempting) with this film and set the standard for all future 3D (and 2D) films. The home version on Blu-ray 3D is equally as breathtaking, but it loses a lot of its impact on a smaller screen, so this is definitely something to consider when attempting to duplicate the theatrical experience at home.
One of my BIG issues with 3D is that it doesn't look very convincing on a set under 54″ or 58″ in size, in most viewing rooms. It needs to fill your field of view to really work. Panasonic's VT25 series plasmas are available in sizes up to 65 inches but they can get a bit pricey at that size. I watched the Blu-ray 3D copy of Avatar on a calibrated 42″ Panasonic GT25 3D plasma HDTV and while I enjoyed the film very much at home (until the headaches started, though we're not sure this is directly related), it didn't blow me away. I own all three Blu-ray versions of the film (all excellent), but the 3D one is only the version to go for if you are going to watch it on a really big screen; stick with the 2D versions if watching on a 42″ model.
I have also had the opportunity to play with the 85″ Panasonic VX200 3D panel and I must say that the few clips of Avatar in 3D that I saw on that panel looked utterly jaw dropping. It made me want to own that set very badly. I have never seen such dark, inky blacks from any panel or projector. The level of detail present was simply astounding. There was certainly a small amount of noise in some scenes, but that's like criticizing a Porsche Panamera Turbo sedan for being slightly noisy in 5th gear as you cruise up the Garden State Parkway (magical car…for the record). Nothing is ever going to be perfect; but for now the picture quality of the Blu-ray 3D is darn close. I saw no ghosting or cross-talk at all on either Panasonic 3D panel when watching this title.
The Sound
The 5.1 DTS-HD Master Audio surround mix for this film is simply one of the best ever offered. Bass is deep, taut, and certainly capable of rattling your home with the right subwoofer. The final hour is a torture test for any system and I found myself turning it up until people started leaving the room because they couldn't deal with the visceral impact of the sound. Dialog is very clear and easy to discern (even with all of the exploding ships and trees). The surround channels possess a wealth of information and are integral to the film; creating a more 3D aural experience (if that makes any sense). The clarity of it all also deserves a major thumbs up. This isn't a jumbled mess, but a very structured and layered audio track that completely envelops. It is quite remarkable.
The Extras
I'm not sure what the Na'vi word for "Zilch" is, but there is not one second of additional material on this release that I could find. Bupkus…as my Yiddish-only Bubie would have responded. It's disappointing, but isn't that why they released the Extended Collector's Edition? Look for a more comprehensive Blu-ray 3D version of the film in 2012.
Final Thoughts
Many years from now, when the entire 3D-thing has sorted itself out and become mainstream (if it doesn't fall flat on its face and fail), people are going to look back and say that Avatar was the film that brought hope to the early adopters. I won't go out on a limb and say that it is the best looking home video of all-time, but it is the best looking 3D film without a doubt. The surround track is one of the best I've ever heard and it made me appreciate the system that I own. The current reigning box office champ is sadly only easily available to folks snapping up a 3D set from Panasonic, but I suppose that if one were really desperate for it, they could just buy the Ultimate Pack and ditch the glasses (as they won't work with a set from Samsung, Sony, or any other brand). My only real caveat about the Blu-ray 3D version is that it loses a lot of its impact on a small screen. If you can afford a 54″ or larger 3D set or a 3D projector, you are going to want this very badly. A landmark product.
Product Details
Actors: Sam Worthington, Zoë Saldana, Stephen Lang, Sigourney Weaver, Joel David Moore, Giovanni Ribisi, Michelle Rodriguez
Director: James Cameron
Audio Format/Languages: DTS-HD Master Audio 5.1 (English), Dolby Digital 5.1 (French, Spanish, Portuguese, English Descriptive Audio Service), Dolby Digital 2.0 (English)
Subtitles: English SDH, Spanish, Portuguese
Aspect Ratio: 1.78:1
Number of discs: 1
Rating: PG-13
Studio: Fox
Release Date: April 24, 2010
Run Time: 162 minutes
List Price: Not much!
2 – Hugo
Hugo 3D
Product Description
Welcome to a magical world of spectacular adventure! When wily and resourceful Hugo discovers a secret left by his father, he unlocks a mystery and embarks on a quest that will transform those around him and lead to a safe and loving place he can call home. Academy Award®-winning filmmaker Martin Scorsese invites you to experience a thrilling journey that critics are calling "the stuff that dreams are made off"
Your first choice to adapt a children's story might not be Martin Scorsese. But consider "The Invention of Hugo Cabret" by Brian Selznick. The award-winning best seller involves the titular young orphan in early 1900s Paris, living in the rafters of a train station. Bequeathed a mechanical man (an "automaton") by his father, Hugo stumbles upon a man linked to the origins of moviemaking. Now the choice of director doesn't seem so odd.
As imagined by Mr. Scorsese, "Hugo", as the title is shortened, is a sumptuous visual feast. Each 3D shot is less filmed than composed. The opening minutes, in particular, play like a wordless overture. Like the beginning of "Up", the sequence eloquently sets up Hugo's plight. Confined to the rafters of the train station, forced to steal food and hounded mercilessly by the station inspector (a mercifully restrained Sacha Baron Cohen), Hugo dreams of fixing the automaton and unlocking the secret he believes his father left for him.
Spying from the station's many clockfaces, Hugo obsesses on the proprietor (Ben Kingsley) of a toy shop filled with all manner of clockwork contraptions. When he's caught stealing small gears from the toymaker, Hugo begins his journey to understanding the true origins of his mechanical friend.
It all seems like a good setup for a wondrous children's movie and, for a time, it is. But as adapted by John Logan ("Gladiator", "The Aviator"), the dialogue veers too often into the obvious – metaphors are hammered home ("what if I'm like one of those broken machines", we get it) and characters actually ask "what's my purpose?"
The actors do their best to sell it. From his opening moments, Mr. Kingsley grabs hold of your heartstrings and refuses to let go until the closing credits. Mr. Cohen tones down what could have been shameless mugging. And relative newcomer Asa Butterfield – looking like a young Ewan McGregor – shows surprising range as the title. Only Chloë Grace Moretz (from "Kick-Ass") feels a bit too anachronistic, plus she's saddled with a character that is almost obnoxiously precocious (she shamelessly namedrops her favorite novels and characters, and enjoys biting into words like "clandestine").
As expected, Mr. Scorsese excels in the 3D medium – he has perhaps used the technology better than any before him – each shot has a real depth of field, and he has a great time with snow and dust particles. The depiction of Paris will bring to mind Baz Luhrmann's equally operatic "Moulin Rouge". But Mr. Scorsese lets his wonder get the better of him. Shots last a beat too long, as if he's saying, "look how cool this is!" and the slapstick scenes with Mr. Cohen fall with a thud. As a result, the rhythm of the film feels off. Rather than an elegant 90-minute children's fable, we have a two-plus hour epic about the very invention of cinema.
Surely, Mr. Scorsese's next foray into 3D will be more self-assured (and possibly more violent). Still, "Hugo" is a beautiful film. And those with a love of beautiful films – or film itself – will surely find a lot to appreciate here. Even if it doesn't always run like clockwork.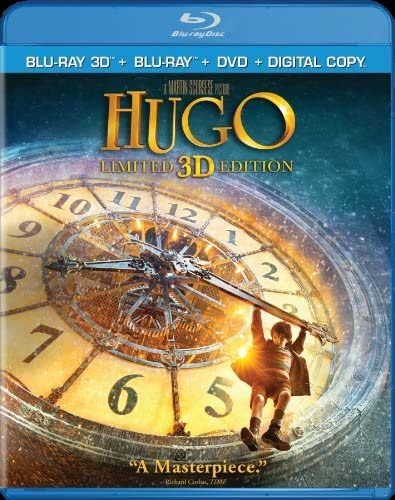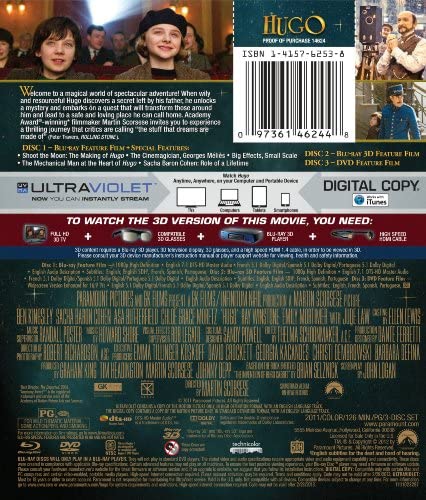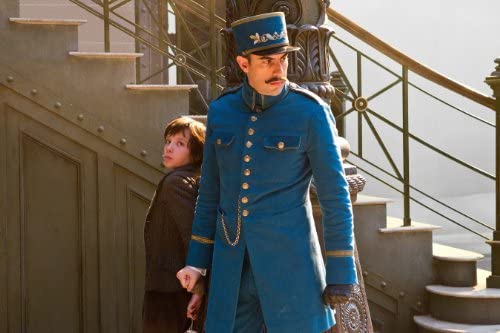 Description
In resourceful orphan Hugo Cabret (Asa Butterfield, an Oliver Twist-like charmer), Martin Scorsese finds the perfect vessel for his silver-screen passion: this is a movie about movies (fittingly, the 3-D effects are spectacular). After his clockmaker father (Jude Law) perishes in a museum fire, Hugo goes to live with his Uncle Claude (Ray Winstone), a drunkard who maintains the clocks at a Paris train station. When Claude disappears, Hugo carries on his work and fends for himself by stealing food from area merchants. In his free time, he attempts to repair an automaton his father rescued from the museum, while trying to evade the station inspector (Sacha Baron Cohen), a World War I veteran with no sympathy for lawbreakers. When Georges (Ben Kingsley), a toymaker, catches Hugo stealing parts for his mechanical man, he recruits him as an assistant to repay his debt. If Georges is guarded, his open-hearted ward, Isabelle (Chloë Moretz), introduces Hugo to a kindly bookseller (Christopher Lee), who directs them to a motion-picture museum, where they meet film scholar René ( Boardwalk Empire's Michael Stuhlbarg). In helping unlock the secret of the automaton, they learn about the roots of cinema, starting with the Lumière brothers, and give a forgotten movie pioneer his due, thus illustrating the importance of film preservation, a cause to which the director has dedicated his life. If Scorsese's adaptation of The Invention of Hugo Cabret isn't his most autobiographical work, it just may be his most personal.
3 – The Amazing Spider-Man 3D

Preview of the exclusive content from the Amazing Spider-Man 2 Target Exclusive Bonus disc.
It's great to be Spider-Man (Andrew Garfield).
For Peter Parker, there's no feeling quite like swinging between skyscrapers, embracing being the hero, and spending time with Gwen (Emma Stone). But being Spider-Man comes at a price: only Spider-Man can protect his fellow New Yorkers from the formidable villains that threaten the city.
With the emergence of Electro (Jamie Foxx), Peter must confront a foe far more powerful than he. And as his old friend, Harry Osborn (Dane DeHaan), returns, Peter comes to realize that all of his enemies have one thing in common: OsCorp.
Genre: Action / Adventure / Fantasy
Cast: Andrew Garfield, Emma Stone, Jamie Foxx
Director: Marc Webb
Writers: Alex Kurtzman, Roberto Orci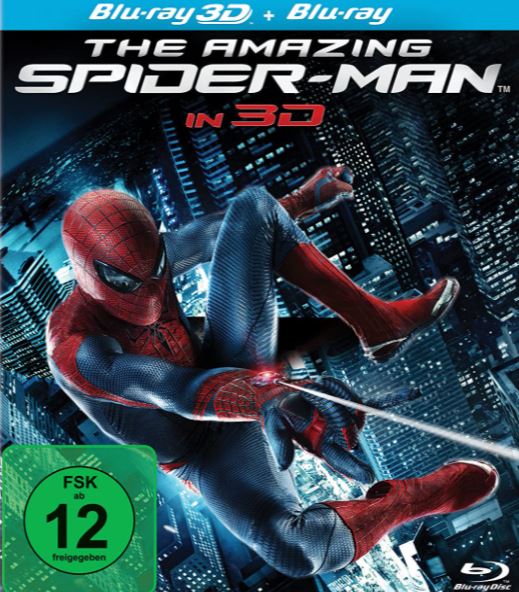 Every superhero origin story is a study in existential angst. Why am I like this, what is my responsibility, who am I? Every hero must go through the stages of grief before finally achieving acceptance and proclaiming, "I am <insert superhero name>!"
Who can forget Christian Bale's first, guttural "I'm Batman", or Robert Downey Jr's cathartic, and very public, "I am Iron Man", or Tobey Maguire's triumphant "Who am I? I'm Spider-Man". So you'd be within your rights to wonder why, five years after the last Maguire Spidey movie, a new Peter Parker is saying those words.
This time it's Andrew Garfield of "The Social Network" donning the skintight red-and-blue and the movie is called "The Amazing Spider-Man" (personally, I thought "Spider-Man 2" was pretty "amazing" already, but I digress). Once again, this is the Spider-Man origin story, and despite the indie sensibilities of "(500) Days of Summer" director Marc Webb (really!), it's hard not to feel the redundancy in this franchise reboot.
All the classic moments are there. The spider bite, the discovery of new powers, Uncle Ben's untimely death. And oddly, it's in these pivotal moments that the film falters. Particularly, the death of Uncle Ben (played as an old school working man by Martin Sheen) is downright clumsy. Say what you will about Sam Raimi's Spidey films (two outta three ain't bad), but the man knew how to stage a death scene. Conversely, Mr. Webb's film excels during the smaller character-driven moments. The typically tiresome bullying scenes in Midtown Science High School (wha?) are given a dose of freshness thanks to the human treatment of Flash (Chris Zylka), likewise the love story with Gwen Stacy (Emma Stone, playing up the doe eyes) feels as authentic as it does awkward.
The film wisely steers clear of the J Jonah Jameson character (J.K. Simmons owns that for at least another generation), opting instead for Gwen's police chief father, played (like wearing an old cop suit) by Denis Leary. Rather than Norman Osborn and the Green Goblin, the baddie in this incarnation is The Lizard, alter-ego of genetic scientist Dr. Curt Conners (played with zeal by Rhys Ifans). The script – by the powerhouse team of James Vanderbilt ("Zodiac"), Alvin Sargent ("Spider-Man" 2 and 3) and Steve Kloves (the "Harry Potter" films) – does a nice job tying together the fates of Parker and Dr. Conners, but we've seen most of that before. They also struggle to find – and tap-dance around – any quote as memorable as "with great power comes great responsibility".
The film has fun with its Manhattan locations – featuring some of the cleanest sewers you'll ever see in a major metropolis. At last, this is a "Spider-Man" film that tackles how tough it would be to actually get around by swinging from building to building (for anyone who's played the "Spider-Man" video game, you understand). There's one bravura sequence involving cranes (and C. Thomas Howell!) that might bring a tear to your eye.
But it's Mr. Garfield's performance that really keeps the film swinging. Rather than Mr. Maguire's super-nerd, Mr. Garfield's Peter Parker is a maladjusted loner – which makes sense for the character – and he wears it well. He also gets Peter's banter (while in costume) down-pat. It's a staple of the "Spider-Man" comics that Peter is constantly yammering away while he's fighting bad guys. Mr. Garfield has a lot of fun with that. And of course, he has his moment of realization when he accepts his new identity and declares, "I'm Spider-Man". And Mr. Garfield earns it. If only there were anything in the film to explain its own existence.
4 – Jumanji – 3D – The next level

Watch the official 10 minutes preview clip for Jumanji: The Next Level, an adventure movie starring Dwayne Johnson, Kevin Hart and Karen Gillan. Available now on Digital, on Blu-Ray and DVD March 17, 2020.
In "Jumanji: The Next Level", the gang is back but the game has changed. As they return to Jumanji to rescue one of their own, they discover that nothing is as they expect. The players will have to brave parts unknown and unexplored, from the arid deserts to the snowy mountains, in order to escape the world's most dangerous game.
© Sony Pictures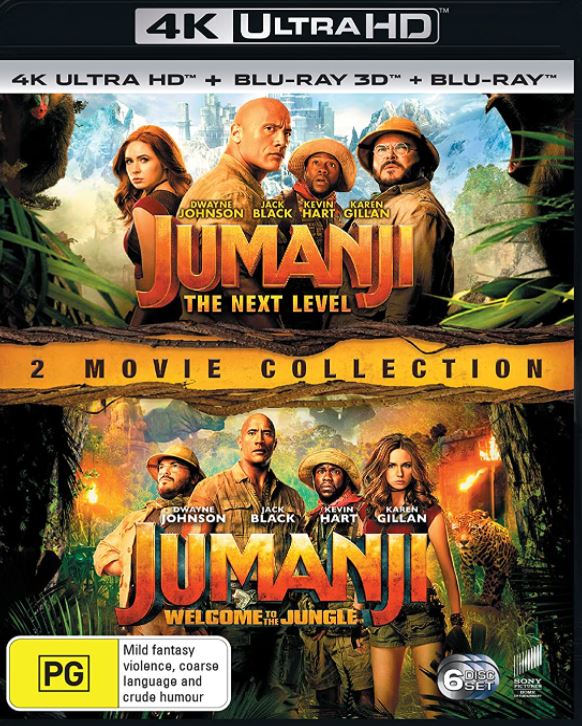 5 – Monsters University 3D

Ever since he was a kid monster, Mike Wazowski (Billy Crystal) has dreamed of becoming a Scarer.
To make his dream a reality, he enrolls at Monsters University. During his first semester, he meets Sulley (John Goodman), a natural-born Scarer.
Sulley and Mike engage in a fierce rivalry that ultimately gets them both kicked out of MU's elite Scare Program.
To make things right, Mike and Sulley — along with a bunch of misfit monsters — will have to learn to work together.